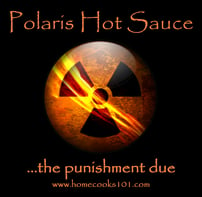 It ain't just about the heat...
No doubt the hot sauce industry has been on a tear the last few years. A new sauce seems to appear on shelves or some social media platform everyday, which is great for those of us who love adding that lil' kick to our favorite foods.
While hot sauces have definitely become more mainstream, a characteristic that seems to be dominating the market these days is a sauce that's centered around, well... pain. Essentially, what's your threshold for discomfort and how much are you willing to endure? Hey, I like my pores to scream from time to time as much as any hot sauce lover, but not with every application. And based on my experiences, the hotter the sauce the more it seems to lack in flavor.
With that in mind I set out to develop a hot sauce that not only has a nice bite, but is flavorful as well. After numerous iterations I found the combination of ingredients I was looking for. And don't let the name misguide you. It has more to do with one of my favorite bands than the intensity of the sauce.
The base of my sauce is made with fresh Habaneros combined with crushed, vine ripe tomatoes. The tomatoes help to mellow the heat of the peppers just a little bit while adding a nice balance of flavor. You'll also find no artificial ingredients, no artificial colors or no artificial preservatives in my sauce.
If you enjoy it as much as I do, please tell your family and friends.
It is about the children though...
Supporting the Make-A-Wish Foundation of Georgia
I've been a wish granting volunteer for Make-A-Wish Georgia for over 18 years. Make-A-Wish is a nonprofit organization that grants the wishes of children battling critical illnesses.
The work done by Make-A-Wish is unmeasured and these wishes change lives. A portion of profits will be donated to Make-A-Wish Georgia as a way to further support the organization.